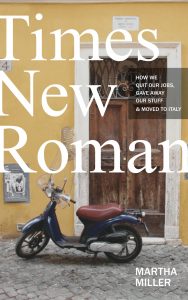 Times New Roman: How We Quit Our Jobs, Gave Away Our Stuff & Moved to Italy
Times New Roman is a true account of lifelong dreams to live abroad, experience another culture, complete an education and alter two career paths.
NOW AVAILABLE IN PRINT AND EBOOK 
Amazon Barnes & Noble The Twig Book People
Fountain Bookstore IAMBooks Elliott Bay Book Company
Hello and welcome to my website! I'm Martha Miller a former retail executive who had been downsized twice and decided to take life into my own hands. My husband and I quit our "secure" jobs in Houston to move overseas, complete an education, experience another culture, and change the course of our lives.  Now I've published book about the experience and I'd love to share it with you!
In Times New Roman, you will learn how we decided where to go and how we funded it ourselves. Using our experiences as a backdrop, Times New Roman focuses on modern life in the Eternal City. By adapting our lifestyle, we learned how to live, eat, shop, cook and dress as the Romans do. And either through osmosis or out of necessity, we picked up some Italian behaviors we never expected.
I hope you'll enjoy our story and be inspired to follow your own dreams, no matter how impossible they may seem. Let me know how it goes:  Martha(at)MarthaMillerWrites.com
Grazie mille, 
Martha