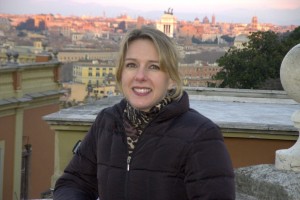 I'm Martha Miller, a freelance writer and editor based in Texas. My work has appeared in a variety of publications including:
Family Circle • Parents • The Christian Science Monitor • Catholic Digest • The Writer
Bead & Button
Transitions Abroad • Go World Travel • LifeinItaly.com • International Living
Chicken Soup for the Soul: Christmas Magic
In January 2008, my two syndicated columns, Living Online and Living Greenly, debuted. They appear regularly in parenting publications across the country: Atlanta Parent, Austin Family, Baton Rouge Parents, Coulee Parenting Connection, Houston Family, Irving Parent, Parents & Kids, Kansas City Baby, Kansas City Parent, Sacramento Parent, Wilmington Parent, and Your Child Today to name just a few.
I'm not just writing about the green life, my family and I are truly living it. We were challenged to go a whole month on one tank of gasoline and we did it! Here are the television news stories.
During the nearly two years I lived in Italy, I was a frequent contributor to Wanted in Rome, an English-language magazine. Even though I've repatriated, I can't get Italy out of my system so I blog about living in Rome. Now I've written a book, Times New Roman: How we quit our jobs, gave away our stuff, moved to Italy, and squandered our son's inheritance. It will be available Fall 2016. 
Please check out my Credits and Writing Samples.  

Thank you for visiting and feel free to drop me a line:  Martha(at)MarthaMillerWrites.com
All the best,
Martha