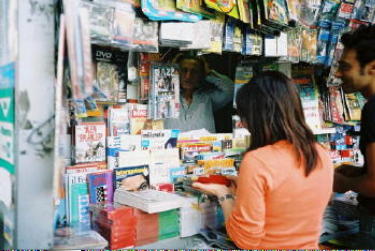 ASU TRAVEL GUIDE. Rome's Trastevere, (April 2004): While Rome entices with its many extraordinary monuments, Trastevere, one of its many distinct neighborhoods, is the place that captures the traveler's heart.
AUSTIN AMERICAN-STATESMAN. Celebrating Thanksgiving, Roman-style, (Nov 2006): My husband and I had been living in Rome for a little over a year and we were growing a bit homesick for some of the American traditions.
BEAD & BUTTON. An Italian Legacy, co-written with B&B Editor Ann Dee Allen, (Oct 2007): If you could look through the eyes of Luigi Cattelan and deep into the bursts and lines of color in a chevron bead, you would see the history of Murano. http://www.beadandbutton.com/BNB/default.aspx?c=a&id=2372
CATHOLIC DIGEST. NunBetter Chocolates: Sinfully Delicious, (Feb 2005): Driving down the streets of Syracuse, New York, you probably wouldn't think twice about seeing a black Volkswagen Beetle. But you might take a second look if the Beetle were decorated with candy decals. You'd be sure to do a double take if you saw a nun behind the wheel.
THE CHRISTIAN SCIENCE MONITOR. Mom and baby, in perfect tune, (Apr 2007): Convinced that I didn't have a good voice, I hadn't sung in over 20 years: not a church hymn, not an office-party "Happy Birthday," not even a ditty in the shower. Not until about two years ago, anyway.  
GONOMAD.COM. Riding in Rome: Doing as Romans Do, on Two Wheels, (July 2004): Imagine a whirlwind tour of the Eternal City – the Forum, Coliseum, Castel Sant'Angelo, Vatican, Pantheon, Trevi Fountain, and Spanish Steps as today's Romans do, from atop a bicicletta.
GOWORLDTRAVEL.COM. Shopping Etiquette, Italian Style, (July 2004): Do you like to touch and feel when shopping? Are you tempted to pick up items you have no intention of buying, just to take a closer look? Do you flip through magazines at the newsstand? What passes for acceptable behavior in the United States can make Italian shopkeepers cringe.
INTERNATIONAL LIVING. At Home in Trastevere, (July 2002): The first time I laid eyes on Trastevere, I felt like I had come home. Six months later, I was able to make that statement a fact when my husband and I took a giant leap and moved here from Houston.
LIFEINITALY.COM. Olive Oil: From Branch to Bottle, (Feb 2006): The olive is enjoying a surge in popularity. The Mediterranean diet, which uses oil from olives as its principal fat, is being touted by health professionals, dieticians and fitness instructors around the world. Italians have been attuned to the wonders of olives and olive oil for centuries. In fact, the oldest living olive tree in Europe, which is certified to be over 2,400 years in age and is protected by the European Union, is located just north of Rome. The tree, with a trunk circumference of seven meters, stands on a private property in Canneto in Sabina.
LIFEINITALY.COM. Shopping in Trastevere, (Jan 2006): Finding just the right gift to take home for someone can be as much fun for the giver as for the recipient. These Trastevere shops, located across the Tiber from the city center, all provide unique (but not weird) and useful (but not boring) gift ideas. You won't find cookie-cutter chain stores here, but rather one-of-a-kind places with their own singular ambiance. Sometimes hard to spot, tucked away in corners and having non-descript doorways, it isn't always obvious what treasures are hidden inside.
LIFEINITALY.COM. Making Scents of it All, (Jan 2006): After an afternoon of serious shopping or sightseeing, it would be easy to slide onto one of the modern bar stools at the sleek counter of L'Olfattorio on Via di Ripetta and expect to order an aperitif. However, this is no ordinary saloon, but more of a salon. Instead of "What will you have?" the question is "What scent are you wearing?" The idea here is not to dull your senses, but to heighten them.
LIVING GREENLY. Living Greenly, Jan 2008): Do you know how big your carbon footprint is? If you haven't heard the phrase "carbon footprint" by now, rest assured the idea is coming to a school, business or organization near you and very soon. Put simply your "carbon footprint" is a measure of your lifestyle's impact on our planet in terms of the amount of green house gases produced, measured in units of carbon dioxide. Maybe it's best explained by real life contrasts.
LIVING ONLINE. Rebates: Improving Success Online, (Jan 2008): When Kaci Goodman applied for a $49.99 rebate on a modem for her high speed Internet hook-up she didn't have great expectations. She says, "I hate these [rebates], but I sent it in anyway." Five months later, Kaci had almost forgotten about it, but followed up with a phone call.
PARENTS. Rock Star, (Oct 2007): No messy sandbox here! Our 2-year-old son, Nate, has a rock quarry created by his dad. My husband cut a few slits in the bottom of our plastic pool for drainage and then poured in a bunch of pebbles. Nate loves scooping the rocks into his dump truck  and anything else he can find, and now he doesn't track sand into the house.
SCRIBE: WRITERS' LEAGUE OF TEXAS NEWSLETTER. Writing within the Borders: Texas Writing Groups Share Their Secrets for Success, (Jan 2005): As diverse as the state's different regions, Texas writing clubs span the landscape and genres. Staying true to Lone Star roots of lending a hand whenever asked, the following tips were generously offered by leaders of some of the more established organizations.
SYRACUSE NEW TIMES. Cheap Chic, (Sept 2003): Overstuffed hatchbacks, bulging minivans and haphazardly packed truck beds are lining the curbs, the unmistakable signs of a fresh flock of students to the area's colleges and universities. And with college life comes living on your own. Fortunately, limited funds need not be a drag on the budget or the psyche. Stylish, affordable furniture and kitschy kitchen and household items can be had for fewer dollars than you might imagine.
SYRACUSE NEW TIMES. From Camp to Candy, (Dec 2003): Whether you're the type of person who starts holiday shopping in July or the sort that doesn't even get warmed up until the decorations are about to come down, there are some shops in Syracuse you don't want to miss.
TRANSITIONS ABROAD. Two Years in Rome: A New Life in an Old City, (Sept/Oct 2002): My husband and I are not trust-fund babies, nor self-made millionaires, but like many, we dreamed of living outside the U.S. After much discussion, research, and planning, we boarded the airplane in Houston, Texas with only two bags each. We arrived in Rome the following day to begin our plan to live abroad, learn the language, and absorb the culture. Our dream was coming true.
WANTED IN ROME. A Recipe for Italian Dressing, (June 2002): Can you spot a tourist a kilometer away? After living in Italy for weeks, months or even years, are you afraid you still look like one? For women, clothing and accessories are never simple. There are so many choices that at times it can be overwhelming. If you are ready to adapt to Italian style there is one important thing you must understand.
WANTED IN ROME. Dressing Up Old as New, (Sept 2002): One of the fun things about shopping in Rome is the variety of great resale boutiques. If you enjoy snooping around second-hand stores, you are in for a treat because there is a wide range and something for every budget.
WANTED IN ROME. Taking Rome Home, (Feb 2003): Have you ever wondered who buys those glittery miniature Coliseums, spoons with the pope's likeness and bronze-like gladiator figures? And more importantly, why? Whether you call them knick-knacks, keepsakes or kitsch, Rome is chock-full of souvenirs. An informal survey of vendors and tourists provided a glimpse into which products sell best and what buyers have to say about their choices.
WANTED IN ROME. The Bird's the Thing, (Nov 2002): Practically every continent has some version of a thanksgiving festival, from Africa's Kwanzaa, to India's Pongal and China's August moon festival. Each of these cultures celebrates the end of the harvest with a shared feast of the bounty. However, celebrating a traditional holiday outside your native country can be challenging. To those who know the North American-style Thanksgiving found in the United States and Canada, one thing that immediately leaps to mind is food—lots of it.
WANTED IN ROME. The Abandoned Cats and Dogs of Rome, (May 2002): When you first arrive at the Torre Argentina cat sanctuary, you are subconsciously reminded of the children's game where the object is to find items hidden in a drawing. As you glance around the ruins of the four temples you spot a black and white feline curled up amid the broken columns, another lazes along the top of the wall, blending in with his coat of gray and white, and a solid black one brushes past your legs.
WANTED IN ROME. Wedding Bells in Rome, (July 2002): If you are planning to get married in Italy, you may want to consider hiring a wedding coordinator. What can they do that you can't do on your own? Maybe nothing, if you have an abundance of patience, have the time to wade through the maze of documentation, are proficient in Italian, and want a very simple ceremony.
WRITERSWEEKLY.COM. Keep Sending Your Work Out, (Mar 2008): Isaac Asimov said, "You must keep sending your  work out; you must never let a manuscript do nothing but eat its head off in a drawer." I believe that to be the most valuable advice a writer could ever receive. And besides you never know where it might lead.
WRITERSWEEKLY.COM. A Quick Check Online Could Mean a Check in Your Mailbox, (May 2005): Seeing my name in print gives me a boost to keep writing and to keep pitching. On a whim, several months ago, I Googled my own name along with the words "Rome" and "Italy" to see if anything I had written was still online. I lived in Rome for two years and most of my published work has come from that experience. When two unsold entries popped up in two different publications, I was shocked, then furious. My work had been stolen!
WRITERSWEEKLY.COM. Turning Rejection into Revenue, (Aug 2005): About a year after I started freelancing, I was getting pretty good at accepting rejections. Instead of letting it ruin my day, I would view a "No, thank you" response (as I prefer to call them), as part of the game. Usually, I would take the query, give it another good look, tweak it if needed and send it out to someone else.I also became better at reading between the lines.